So, yesterday I was following the Ballon D'Or awards and it turns out that the epic Carlos Valderrama was one of the hosts. Because many of you will be unaware of who this man is and why he is so epic, I will post some pictures to illustrate the reason for his epicness:
What y'all think?
Carlos Valderrama (September 2, 1961) was a Colombian soccer player who was known for his huge blonde afro; he played in the '80s and '90s (I remember watching him play for Spanish team Real Valladolid!). He sported his long curly hair throughout his soccer career and would alternate between a big afro and a Shake & Go. In fact, Carlos Valderrama has classic Type IV curly hair (like Corbin Bleu) and in The Curly Hair Book I recommend the Shake & Go hairstyle for the Type IV curl type; as you can see, it suits him, although he could do without the blonde dye for his afro mane.
Below is Carlos Valderrama with Ruud Gullit during the Ballon D'Or awards yesterday (Leo Messi won, by the way). Ruud Gullit was also known for his big afro hair although in the photo below he is wearing a curly haired wig for some comedy during the awards.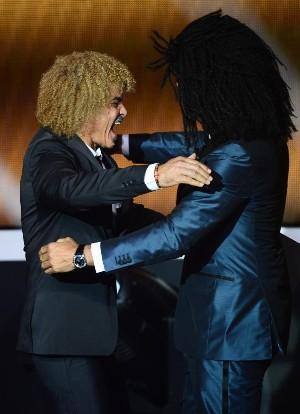 More hair inspiration for all of you curly comrades; though, if you're going to grow your big coils like Carlos Valderrama, please don't dye them blonde.
All the best, fellas, and don't forget to join our revolution with your awesome mane!
Rogelio
P.S. if you're interested in growing your curly hair or just in improving its texture and looks so you can own an impressive head of curls, then look no further and not only keep an eye out for more articles here at Manly Curls (subscribe!) but do also get my bestselling book specifically on curly hair for men, The Curly Hair Book! (click the link to see the book at Amazon)
P.S.S: Since we're talking about epic hairstyles, check out our recent article on the hairstyle of Zyzz over at Men's Hair Blog too!